Welcome to the new Maine South Alumni resource center.
******************
Please donate - I receive no funds from the school district...
Your donations to keep this web site going
would be greatly appreciated.
Paypal signup is FREE.
************************

Please send us your reunion plans so that we may post them here.
We can also assist your reunion planning by providing class lists to reunion organizers.
If you have a website or Facebook page for the reunion, send those also.

MAINE SOUTH '73 REUNION
SATURDAY 09/29/2018
DON JUANS RESTAURANT EDISON PARK
PLENTY OF MUSIC, FOOD, & DRINKS AND NO FORMAL SIT DOWN DINNER
MORE INFORMATION TO FOLLOW

PLEASE SEND YOUR EMAIL ADDRESS TO EITHER AND PASS THE WORD!!!!
Jan Milligan
janvon1@gmail.com
  or Fran Samaras Harrington
nadi1213@aol.com
************************


Class of '68 Reunion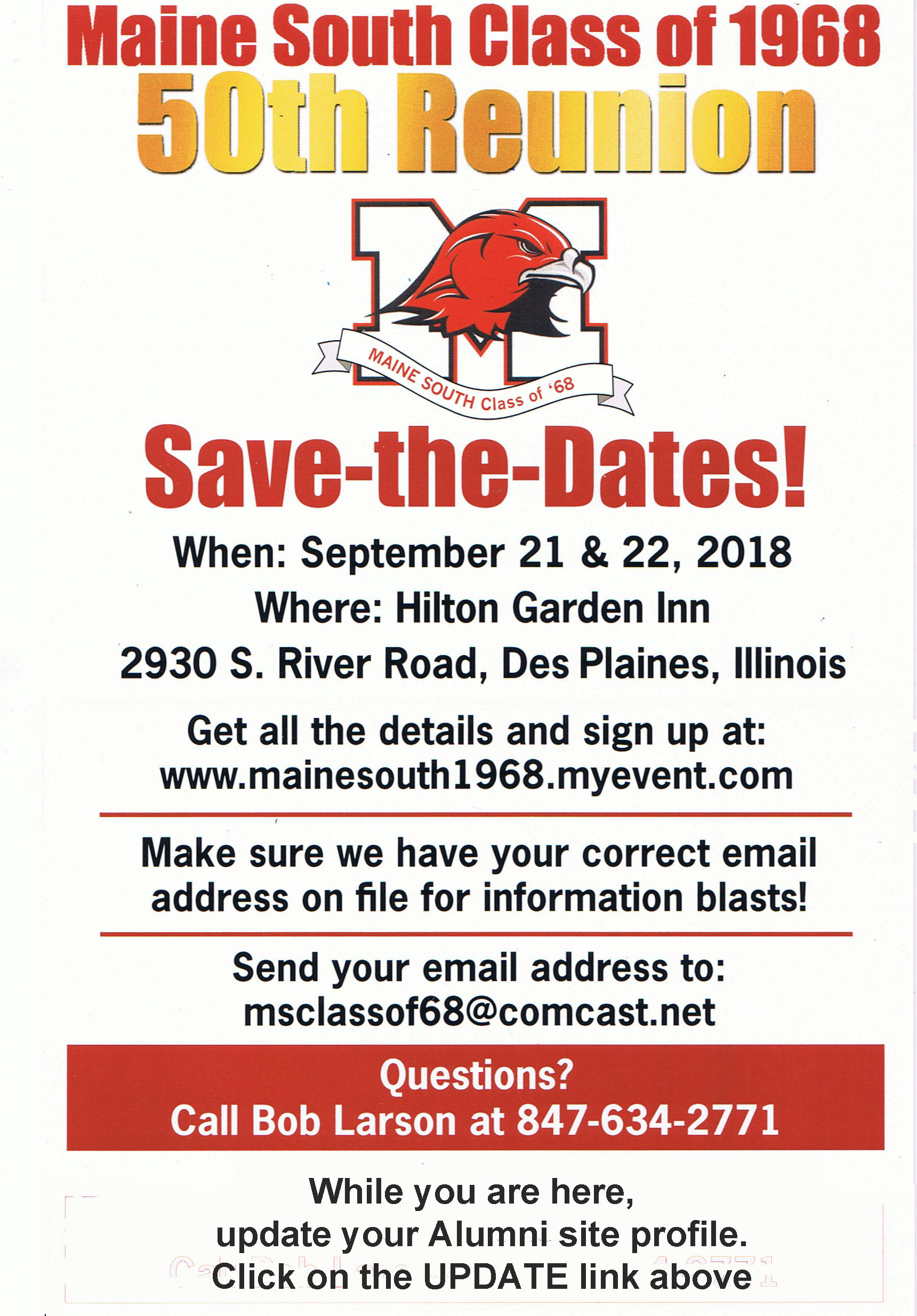 ************************

Go to Reunion page
The Following Alumni have updated within the past 20 days

AGASE, Andriana,'2003 AIMERS, James A,'2002 ALEXAKOS, Demetri J,'2001 AMMENTORP, Matthew,'2010 ANNES, Brian A,'2002 ANNUNZIO, Andrew J,'2002 ARCHER, Ryan,'2002 BALAZS, Thomas C,'2002 BAMBACH, Eugene,'82 BEAUMONT, James A,'67 BEAUMONT, Jeffrey G,'75 BEAUMONT, John B,'71 BEAUMONT, Joseph G,'79 BEAUMONT, Joyce L,'69 BLACHUT, Jason K,'2001 BOYLE, Marianne,'78 CHAUVIN , Gayle,'67 CLEVELAND, Michele M,'83 DAVIS, Peggy,'68 DWYER, Deborah,'73 FRANTSVE, Julie,'87 GRIPPO, Anthony E,'99 HENRICKSON, Haley,'78 KAMINSKI, Mark,'82 KIK, Diane,'69 KLOESS, Katrina,'2001 KLOESS, Kristin,'2001 KRELL, Kathleen D,'79 KRELL, Veronica L,'75 KUKLA, Susan,'68 LEMAY, Jean,'73 LIBNER, Heidi L,'2001 LIBNER, Lt. Eric A,'2006 MANIKA, Deborah,'73 MEEHAN, Martin E,'83 MEEHAN, Mollie P,'75 MEEHAN, Patrick J,'81 MEEHAN, Timothy F,'79 MILLIGAN, Jan,'73 MORGAN, Kathleen,'75 MOSTAD, Carol,'79 NELSON, Catherine A,'80 NOWAK, Jim,'85 PETERSEN, Christopher,'78 RECKERT, Carrie,'75 RYDZ, Brian,'79 SAMARAS, Fran,'73 SCHAEFER, Joy,'69 SCHWABE, Richard,'69 SEELIG, Dawn,'79 SKOWRON, Elizabeth ,'98 STERBA, John,'83 SWANSON, Lynda,'83 TORP, William,'67 VEDRINE, Kevin,'82 WALEWANDER, Elizabeth,'82 WALSH, Tom,'75 WEINKE, Gail,'71 WHALEY, John,'80 WHITFORD, Karen L,'78 WHITFORD, Peter L,'75 WIND, Michael P,'79 WIND, Steven T,'80 WIND, Stuart A,'78 WYPYSKI, Krzysztof,'2000